#Lakshwadeep: Will PM Modi itervene to revise the draft proposed by Lakshwadeep Development Authority Regulation ?
---
India's smallest Union Territory Lakshadweep, the group of 36 islands is known for its exotic and sun-kissed beaches and lush green landscape. The name Lakshadweep in Malayalam and Sanskrit means 'a hundred thousand islands'.All Islands are 220 to 440 km away from the coastal city of Kochi in Kerala, in the emerald Arabian Sea.


It has 96.5% Muslims and 2.77% Hindus and so the lone Member of Parliament is Mohd Faizal of NCP. On 25th May, the Administrator Praful Khoda Patel banned beef & allowed alcohol.
His administration has proposed the Lakshadweep Animal Preservation Regulation, 2021, which bans the slaughter of cows, calf, bull, and bullocks. Mr. Patel has been accused of banning beef products in a place the meat is widely consumed, demolishing fishermen's sheds in coastal areas for violating the Coast Guard Act and revoking restrictions on the consumption of alcohol.

The culture of Lakshwadeep is unique similar to Kerala. The recent actions by Administrator is disturbing the social fabric of the island.Centre should respect the emotions of the locals says congress leader from Kerala Ramesh Chennitala.

The #SaveLakshadweep campaign on Monday gained national attention as the likes of actor Prithviraj Sukumaran and footballer C.K. Vineeth, NCP chief Sharad Pawar took to social media platforms to voice their support for the islanders' concerns.

A letter by MP KC Venugopal to President of India on Lakshwadeep LDAR draft.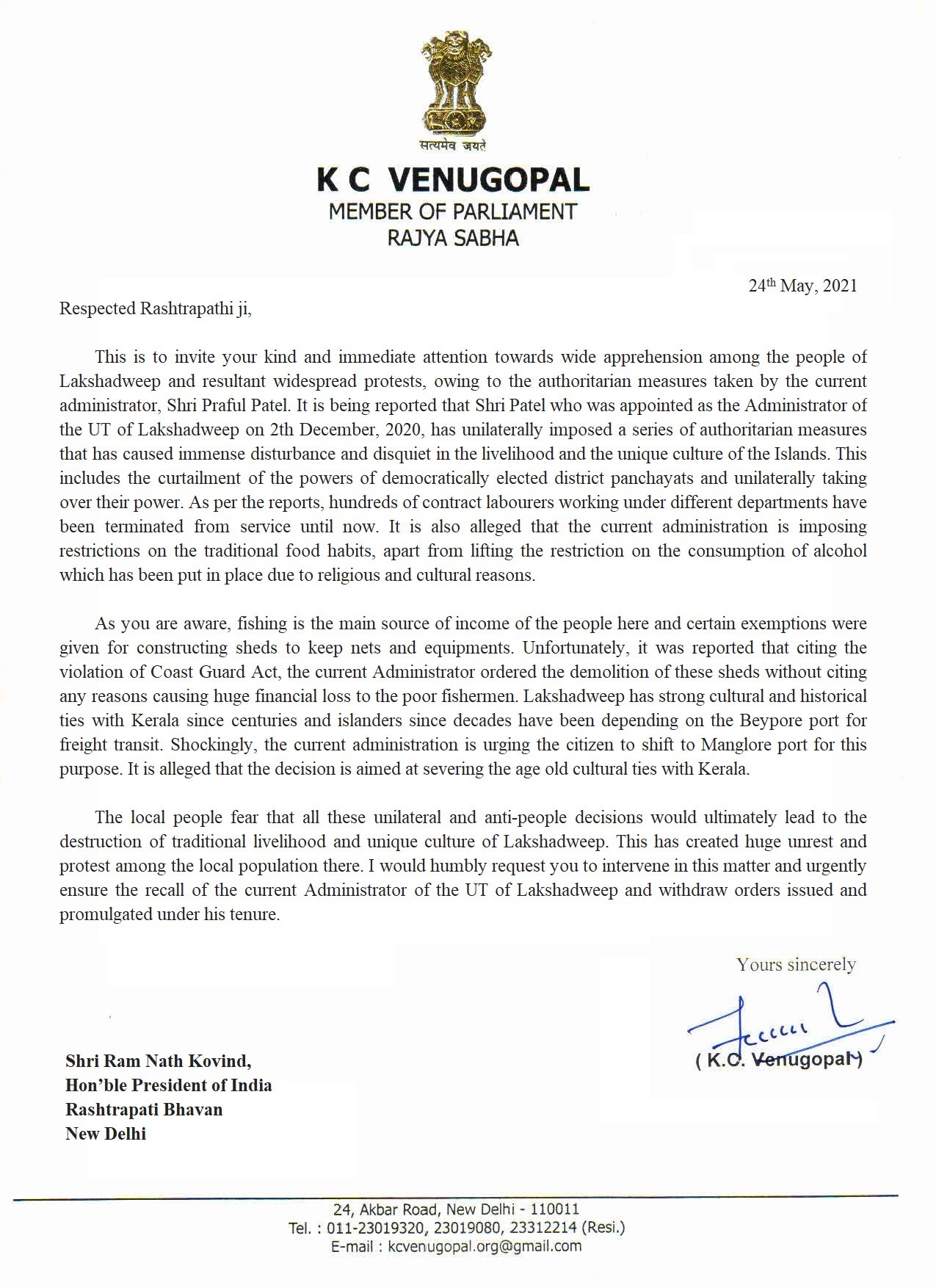 Now the question is will Prime Minister Modi intervene is revising the draft to save Lakshwadeep ?